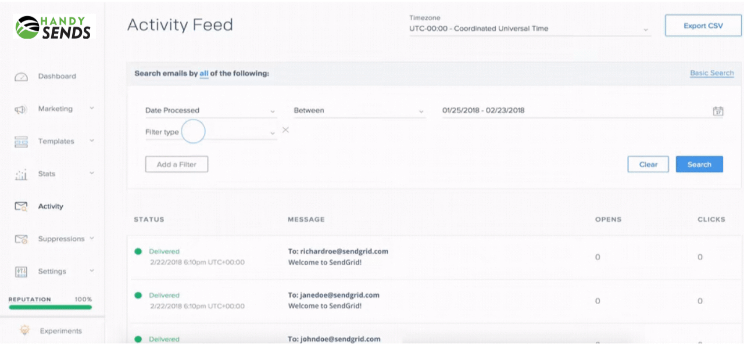 *Please note some limitations apply. Email volumes over 100 million are not included. An additional purchase is required for additional email history up to 30 days as well as new events API endpoints.
Gain Peace of Mind With Email Sending Visibility
Troubleshooting occasional email delivery issues is unavoidable. To help, we provide added visibility into each of your email messages with our enhanced email activity feed.
Easily pinpoint a specific email message with our email activity feed's advanced search and multiple filter capabilities—including partial subject line search.
Understand the entire journey of that message with sequential event organization —detailed from processed to delivered, through to opened and clicked.
Harness the freedom to access the email activity data you need when you need it, with the additional email activity history option* (up to 30 days visible in the UI), exportable CSV, and details-by-email API.